Barb G.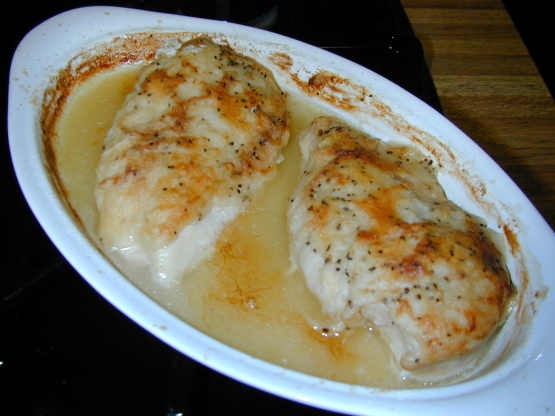 This recipe is a slightly modified version of one from the Mama Dip's Kitchen cookbook. We enjoyed it very much. DH, who is used to rating new recipes, said "give it a 7"! The chicken has a crispy, and well-seasoned crust. So easy to make, too. Note: the time listed does not include the 20 minutes of soaking in salt water. Mama Dip's recipes are traditionally Southern U.S.

As with the person before me, my chicken coating didn't turn out crispy either so I drained the liquid & baked it for a further 5 minutes without the liquid. I found the chicken to be deliciously moist. Next time, I would make a sauce to pour over the chicken. Thanks for sharing this recipe PanNan :)
Place chicken in a large bowl and cover with water.
Add 2 tsp salt and stir it around.
Let chicken rest in the salted water for 20 minutes.
Preheat the oven to 375.
Drain chicken well.
Pour the melted butter over the chicken, and stir it around to coat the chicken well.
Place the chicken in a 9 X 13 baking pan, arranged so that the pieces are close together.
Add any remaining butter to the chicken in the pan.
Mix the flour and the pepper in a small bowl.
Pour through a sifter, or small sieve, and sprinkle the mixture evenly over the top of the chicken pieces.
Pour in the cup of water from the edge of the pan so that the water fills the bottom, and does not touch the top of the flour-coated chicken parts.
Bake in the oven for about 45 minutes.
Time will depend on which chicken parts you are using.
Breasts take less time than thighs.
I use a meat thermometer (to about 175) to tell when it's done.
If there are any spots of raw flour on the chicken, just spoon some of the water over it, and return to the oven for a couple of minutes, to crisp up.