Lvs2Cook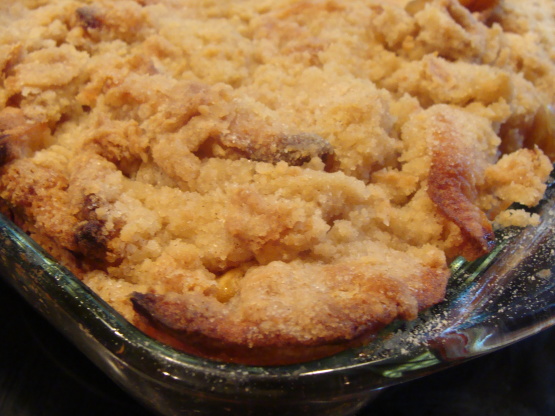 A wonderful, moist cake; perfect for bringing to a potluck or sharing with your family!

First I have to say that I followed the directions step for step and by using the 9 inch square pan it took my cake to completely bake in 75 minutes. When it was finally cooled to eat it was a little thick so I would recommend baking it in a 13x9 pan, unless you like thick cake. Cooking it in the 13x9 pan would greatly reduce the time spent baking the cake. Over all though it was supper yummy!
Heat oven to 350 degrees.
Lightly butter a 9 inch square pan and dust with flour (you can also use nonstick spray).
For the topping, melt 1 tbsp butter in a skillet. Add the apple slices and saute over medium high heat for 2 minutes (stir often). Move the slices to a plate and allow to cool while preparing the cake.
For the cake, sift the flour, baking powder, and salt into a medium bowl; set aside.
With an electric mixer, cream the butter (1/2 cup) and cream cheese in a large bowl.
Gradually add in the sugar, 1/2 cup at a time.
Add in the eggs one at a time, beating well after each addition.
Add the flour, a third at a time, blending well after each addition.
Add the vanilla and lemon zest.
Pour the batter into the prepared pan and smooth it with a spoon.
To finish the topping, combine the flour, sugar, cinnamon, and salt in a large bowl.
Rub the butter into the dry ingredients until you have uniform crumbs.
Sprinkle half of the crumbs over the batter, then add the apple slices.
Top with the apples with the remaining crumbs.
Bake the cake on the center rack for 50-60 minutes. When the cake is done,it will pull away from the sides and the top will be golden brown.
Cool the cake in the pan on a wire rack.