PaulaG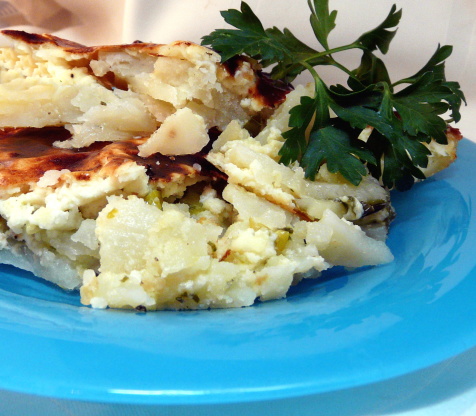 Another local favorite published in our town newspaper. This sounds like a great side dish for a family meal or pot-luck.
Top Review by PaulaG
This is a really great side dish. I did reverse the process on the potatoes by slicing them thin, placing them in a small amount of water and cooking just until fork tender. Since I have an over abundance of green onions, I chopped up a couple for this dish. Also, the finished product was white on top and I placed it under the broiler for a few minutes for some golden color. The sour cream was thick yogurt. The recipe was reduced to serve 2 and I had 3 generous servings. Something that I would make again.
Preheat oven to 375*.
Slice cooked potatoes thin.
Melt butter in skillet and add potatoes and chopped onions.
Cook; turning until lightly browned.
Spread potatoes and onions in shallow 1 1/2 quart baking dish.
Sprinkle lightly with rosemary, salt and pepper.
Mix cheese, sour cream, eggs, flour, dash of rosemary, 1 teaspoon salt and dash of pepper.
Pour cheese mixture over potatoes.
Bake for 35 minutes.