Cottage Pie With a Bit of Zing
Derf2440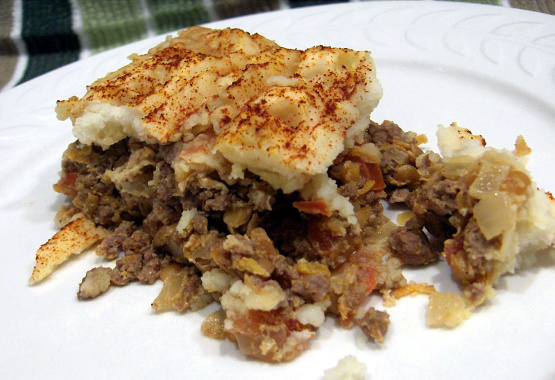 Created for RSC #9. We love Cottage Pie at our house, it's comfort food. This recipe has an additional umph of protein with the addition of lentils, and a bit of zing courtesy of a jalapeno pepper.

Top Review by schia
Our whole family liked this - thanks for sharing! I followed the recipe more or less exactly, athough i used a lot more potato (we like a good layer of potato on top). I thought the meat bit could have been a bit more moist, although my husband and daughter loved it as it was and didn't want any different. The slight chili zing was lovely :)
Preheat the oven to 350°F
In a large skillet, brown the ground beef in the olive oil.
While you are busy with the ground beef, cook the lentils in water over high heat until soft, about 15 minutes. Test to make sure they are soft, there's not much worse then biting into a hard lentil while eating comfort food.
While you are doing this you might as well jump ahead a bit in the ingredient list and cook up the potatoes in a separate pot of water until they are soft (do the fork test).
In a large bowl, mix the browned ground beef with the cooked lentils.
Add the tomatoes, carrots and white onion.
Add the beaten eggs to the mixture.
Add the jalapeno pepper. You can add as much or as little as you like, depending on how much zing you want in your pie.
Add in the soy sauce, salt and pepper and paprika to taste.
Mix everything until it's well combined.
Grease a 9x13 inch baking dish and pat the meat mixture down into the dish.
Take the cooked potatoes and mash them together with the margarine, egg, salt and pepper. Do this quickly so the hot potatoes don't cook the egg before it has a chance to be incorporated.
Spread the mashed potatoes over the meat mixture. Use your fork and make a pretty design in the mashed potatoes, and dust with sweet paprika.
Place the pie in the oven and bake for about 50 minutes. The top should be a lovely brown and crispy color (can color be crispy?).
This is almost a complete meal, you really just need a green vegetable or salad on the side.