gailanng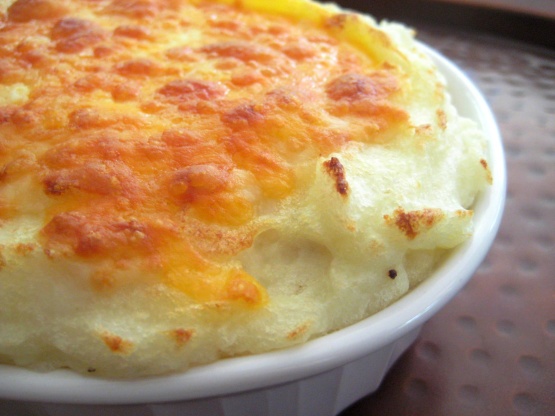 I really enjoyed this! Made using some slightly tough leftover roast beef. Used the juices from the roast for the gravy. I used less salt. Good use of leftovers!
Sauté onions, celery and carrots in unsalted butter or margarine in large skillet just until tender.
Combine with roast beef, gravy and spices and simmer slowly for about 20 minutes.
Be sure to remove bay leaves.
Mixture should be thicker than stew but neither too dry nor too runny.
Add more gravy if necessary.
Put approximately ¾ cup hot beef mixture into small, round casserole dish.
Cover to edges with mashed potatoes, smoothing with knife.
Mark with tines of fork.
Sprinkle middle with approximately 2 tablespoons grated cheddar.
Place under broiler until lightly browned or bake in 350°F oven for 15 minutes.
Garnish with fresh parsley.