Boomette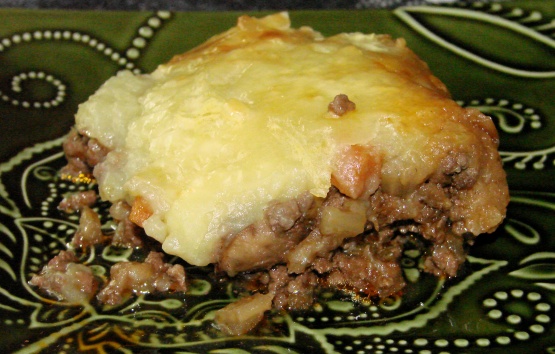 Cheesy potato-topped beef in a wine enriched sauce adds a special touch to cottage pie in this hearty recipe.

Wonderful dish! My family loved it. Just a few changes for us. Instead of red wine I used some extra beef stock and thickened it up a bit with some flour to make thicker gravy. And we can't get cheddar where we live so I used some aged Gouda. We like cheese so I used a cup of it to cover the whole 10x13 pan. Will make this again and again. Made for Photo Contest: Beyond Hamburgers.
Pre-heat oven to 350°F.
Heat the oil in a large frying pan and add the onion, celery and carrot, stirring them over a brisk heat but not allowing them to brown.
After 5 minutes or so add the garlic, reduce the heat and soften everything together.
Increase the heat again and add the ground beef, stirring until browned.
Stir in the tomato paste, Worcestershire sauce, Tabasco, wine and stock, season and cover. Simmer for 10 minutes.
Boil the potatoes until soft and mash them with the milk until smooth and creamy.
Spoon the meat mixture into a gratin dish and cover with a thick, even layer of mashed potato.
Sprinkle with cheese and bake for 45-55 minutes until golden and bubbling. Serve with seasonal vegetables.