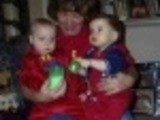 A good friend gave me this recipe about 25 years ago after I ate these crepe like pancakes with yogurt on them at her house and enjoyed it thoroughly. (I had never been a yogurt or cottage cheese eater previously.) My kids have grown up loving this delightfully different dinner. We top it with a variety of fruit flavored yogurts. I serve it as a dinner meal served with sausage or canadian bacon. The left overs are great spread with yogurt and rolled up and eaten cold as snacks.
Directions
Mix all ingredients (EXCEPT Yogurt) in a blender.
Cook on a hot griddle until dry on top.
Turn once.
Serve with breakfast meat.
Each person can try a variety of different flavors of fruit yogurt on their pancakes.
Refrigerate left overs.
Spread yogurt on and roll up for a cold snack.
The 20/25 minutes prep.
time includes the cooking time since it is an active cooking.
Most Helpful
I used virgin coconut oil and this was not a good choice. I think if I had used canola, we would have been just fine. The consistancy was great. You have a lot of control over the batter, provided you have a very hot griddle. No need to spray first (or grease) on a non-stick pan. Made my own fresh raspberry sauce and this was very good. Had a crepe like consistancy and a twangy cottage cheese flavor. Good, but not GREAT.
Very good recipe.By mistake we got from shop 3 lb of cottage cheese instead of sour cream and I didnt know what to do with it. I am so glad to find this recipe,because my toddler Loved it!He ate whole pancke saying Mmm,nyam-nyam.Usually it is hard to make him eat breakfast,but this was a hit.It was very easy to make them and they are really delicious. Thank you for sharing!
DELICIOUS, They are good with Jam, Yogurt, anything. DH tried them with several things all he kept saying was Yum, this are SOOooo good. Made these for his Birthday breakfast. Served them with Ham. Will be making these often. I used my immerseable hand blender for less cleanup. Barb