Cottage Cheese Onion Muffins
twissis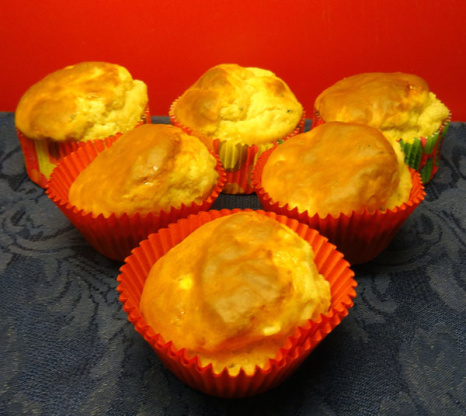 This recipe comes from The Original Vidalia Onion Cookbook that I received years ago with a gift box of Vidalia onions. While I haven't made these muffins yet, I love muffins and this sounds like something that would be great with a steak dinner. I'm posting it here since I always forget to dig through my cookbooks now that there are so many great recipes online.

Made for the FYC Tag Game - These muffins are best served while still warm w/butter & they could use a boost of flavor (maybe onion or garlic powd). If eaten at rm temp or rewarmed, they seem a bit bland. I had 2 baking issues - 1 my fault & the other unclear. I should've used my ramekins or acrylic muffin baking forms, so I could spray them as the recipe directed (I don't have muffin tins). But I made them in haste & grabbed muffin paper liners in 2 sizes (a big error as they stuck to them stubbornly). They seemed to rise & brown unevenly & faster than expected, but didn't test done. They were dark as a result, but that may have been my oven or the cottage cheese ingredient. Siggi is devouring them w/gusto, so thx for sharing this recipe w/us.
Preheat oven to 400 degrees.
Coat muffin tins with cooking spray.
Sift together flour, sugar and baking soda. Then add remaining ingredients, one at at time, in the order listed in the ingredients. Stir to incorporate each before adding the next.
Fill muffin tins 1/2 full and bake for 15-20 minutes.
Cool a few minutes before removing from muffin pan.
Serve with butter.