Cottage Cheese Noodle Bake
twissis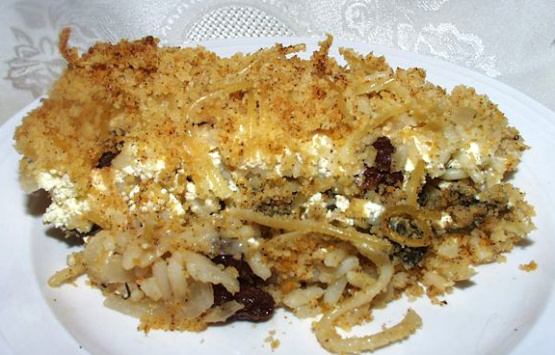 This is a variation on the Greek spinach pie, Spanokopita. Spaghetti is used instead of filo leaves. It's easier to make and tastes great the next day.

I made a half recipe of this dish w/1 sml chg. I used fresh spinach, added garlic to that mixture as a pers pref & otherwise followed the recipe as written. Even a half recipe filled a 10-in rd baking dish & IMO would easily serve 6-8 as a side dish. DH is a meat & potatoes guy, but I like finding good pasta dishes to add greater variety to our meals. I served this w/oven-baked fish fillets & liked the starch & veggie parts of our meal combined in 1 dish. This was very flavourful, but DH & I were true to form here as I found it in need of salt & he did not. DH said the crispy texture of some of the spaghetti on the top layer was not much to his liking, so I will prob chg the layering a bit next time. All this said, we liked this dish a lot & it definitely will be repeated. Thx for sharing this recipe w/us.
Cook spaghetti al dente, rinse, drain and set aside.
Cook spinach til tender; drain and place in bowl. Add 1 tblsp olive oil, lemon juice and rind to spinach; mix well, set aside.
Saute onions with spices in the 2 tblsp olive oil until transparent.Stir in rice, water and raisins; heat through; set aside.
In separate bowl, stir eggs with salt and pepper. Add cottage cheese and mix well; set aside.
Combine bread crumbs, paprika, butter and set aside.
In a 13 x 9 oiled pan, layer: 1/2 of the onions, then 1/3 of the spaghetti, next all the spinach, then 1/3 spaghetti, then all the cheese, then remaining onions, then remaining spaghetti.
Sprinkle on the topping.Dab on more butter if desired.
Bake 350 degrees, for 1/2 hour. Lay a piece of foil over top and continue to bake for another 35 minutes or til done.
Allow to cool/set for a half hour before cutting.
Top servings with dollops of yogurt if desired.