Cottage Cheese Enchiladas
Parsley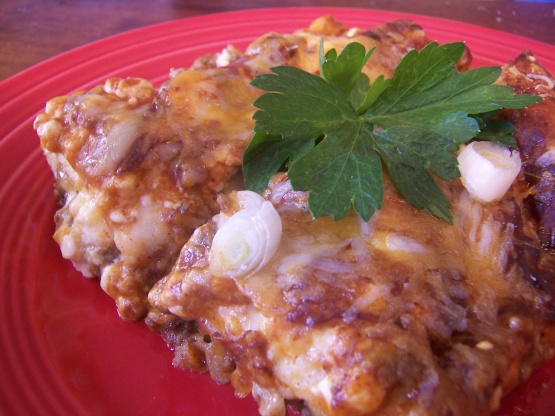 Oh My!!! These enchiladas are too good to be true! I found this recipe on another recipe site and I just had to tell others about it! All of my guests love this dish. Just be careful, they're filling!

Top Review by Donna
These were fantastic! so creamy and different, I love them and my kids did too. Only change I made was I had green sauce and not red, excellent enchiladas!
Preheat oven to 350.
To make meat mixture: Heat oil in medium saucepan, add either cooked shredded chicken or ground beef.
(If using ground beef, cook until browned).
Add onion and sautè and add taco seasoning and prepare according to package directions.
To make cheese mixture: Combine sour cream, cottage cheese, salt, and pepper in a medium bowl.
To assemble enchiladas: Take a bit of the meat mixture, cheese mixture, and shredded cheese and roll.
Place the enchiladas in a 9x13 baking dish, with folded edge on bottom of pan.
Top tortillas with any remaining meat or cheese mixture or shredded cheese.
Pour the enchilada sauce over tortillas.
Bake at 350 for 20-30 minutes or until bubbly.
(If using flour tortillas, the ends will become a little dark, but that is OK).
ENJOY!