Cottage Cheese, Chicken & Tomato Salad
Bergy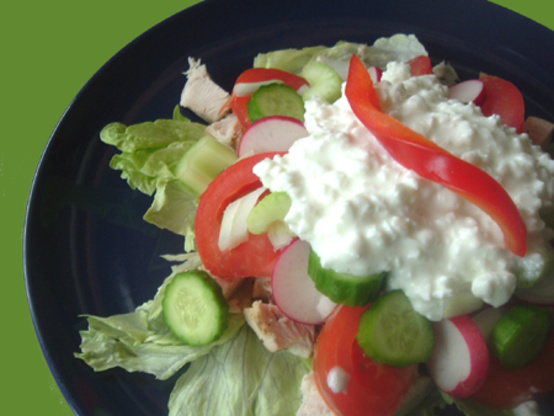 This is a very refreshing salad - you can vary the ingredients depending on what you have in the fridge. Use leftover chicken or some canned chicken. I like a bit of low fat Sundried Tomato Oregano dressing on it but use the dressing of your choice. Garlic croutons are nice too! This is one serving - repaeat for as many as you wish

This makes for a quick, filling lunch! I tweaked it a bit because of the ingredients I had on hand. I used mixed baby greens, chicken, regular onion, roma tomato,cottage cheese, and Sun-Dried Tomato and Red Pepper dressing. Next time I will make sure I have cucumber! (not a big fan of radishes/celery)Thanks Bergy!
Place a layer of lettuce on your plate.
Spread on the chicken and then layer the other ingredients.
Top with cottage Cheese.
Sprinkle with croutons& Dressing if using.