PaulaG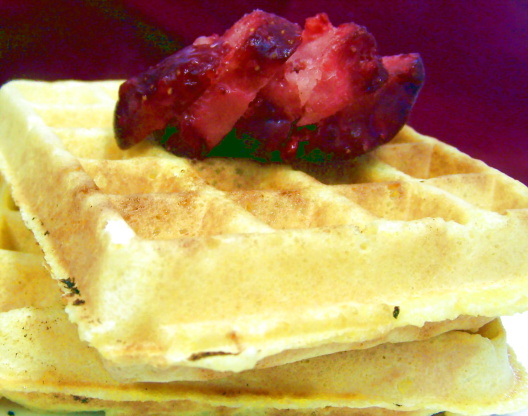 From the Southern section of the United States Regional Cookbook, Chicago Culinary Institute, 1947. Posted in response to a recipe request. Cooling time for the mush not included in the preparation time.

These were really good. A little more involved than "regular" one bowl waffles and it makes A LOT. I served them with chicken & gravy that I made from a rotisserie chicken (Amish PA Dutch style). The corn flavor really came through. I accidentally forgot to cook the "mush" in a double boiler and ended up adding 2T of oil at the end (forgot to put the shortening in too, I was on a roll); they still turned out great. These are a nice savory alternative and accompanied well with the chicken & gravy waffles we have for dinner once in a while. Thanks for sharing!
Cook corn meal, water, and butter or shortening in a double boiler for ten minutes, stirring frequently.
Cool.
Sift flour, salt, baking soda together.
Beat eggs until very light and add to cornmeal mush.
Add sifted flour mixture alternatively with milk and stir thoroughly.
Add enough buttermilk or sour milk to make a thin batter.
Spray your waffle iron with cooking spray.
Bake batter in hot waffle iron until golden brown.