Cornmeal Sweet Potato Breadsticks
loof751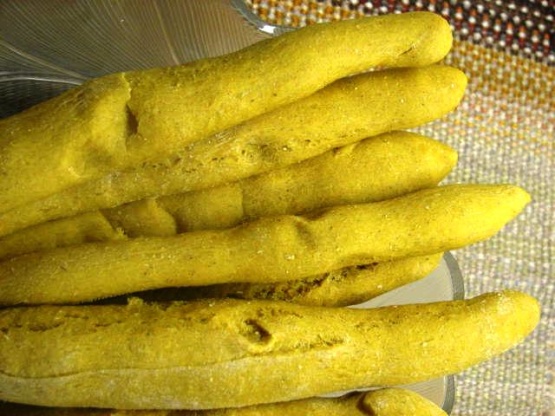 Crunchy and slightly sweet, pairing two indigenous American staples. This is based on a Cornmeal-Cayenne Grissini recipe from Gourmet magazine.

These breadsticks were very unusual and really good! I did use both the cinnamon and the cayenne and they gave the bread a really distinctive flavor. I had to use quite a bit of extra flour as I was kneading because my dough was a little sticky. All in all, I enjoyed these breadsticks!
Sprinkle to yeast over the warm water in a large bowl. Let stand 5-10 minutes, until foamy.
Stir in remaining ingredients.
Knead 8-10 minutes, until smooth and elastic. (Compared to traditional breadstick dough, this may feel oily, and won't develop such obvious gluten strands.).
Cover and let rise about an hour, until doubled in bulk.
Preheat over to 350°F.
Roll dough into 8-10-inch-long sticks and place on a greased baking sheet. Thinner sticks (pencil-sized) will be crunchier and have more of a caramelized taste. Thicker sticks (finger-sized) will have distinct crust and bread textures.
Bake about 10 minutes, until lightly browned.