Cornmeal Sourdough Waffles
PaulaG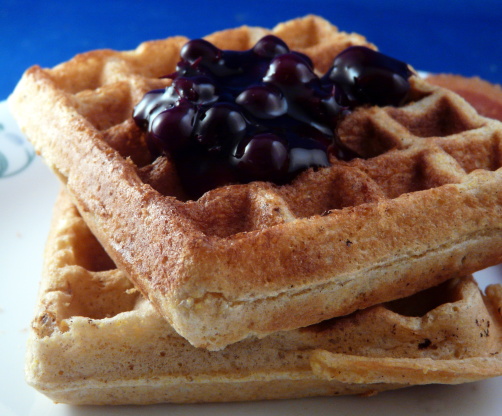 Light and crispy, that about says it all. I love cornmeal griddle cakes and have been attempting to adapt them to sourdough waffles. This works quite well. Serve with fresh blueberries, maple syrup or jam. This recipe makes quite a few; however, they freeze well and can be reheated in a toaster oven for a quick weekday breakfast.

This one was a total flop for me. It literally glued my waffle iron shut even after I had oiled it. And the parts that I was able to scrape off tasted like sand paper.
Before going to bed, put 1/2 cup starter in a large mixing bowl, stir in 2 cups buttermilk, sugar, white and wheat flour; mix well and cover with cloth.
Next morning, while waffle iron is preheating, beat egg whites until stiff.
Lightly beat egg yolks and add to starter mixture, stir in cornmeal, butter, soda, salt, vanilla and cinnamon if using; add additional buttermilk if batter seems to stiff.
Fold in beaten egg whites and bake in waffle iron as per manufactures directions.
Place on wire racks to cool completely before packaging and freezing.
To reheat, toast in toaster oven to desired degree of crispness.
Please note that the cook time does not reflect the overnight proofing of the batter.