chia2160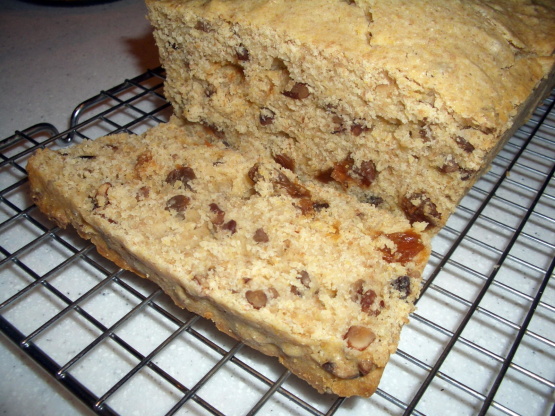 As soon as I saw this recipe in Bon Appetit I knew I had to try it. The healthy ingredients are perfect for our new lifestyle and great for autumn. This may be my new raisin bread :)

Wow! Can't believe this has gone so long without a single review.. It's great.. I subbed vanilla yogurt for the buttermilk..Had a tin of candied pecans that needed to be used so crunched them up a bit. Of course I love,love, love baking bread in my cast iron loaf pans...Sweet but not overly sweet.. Nice density. Great for toasting or french toast...
Preheat oven to 350°F.
Mix dry ingredients in a large bowl (flours- sugar).
Mix buttermilk, eggs, melted butter, vanilla and maple syrup in a small bowl.
Add liquid ingredients to dry, mixing with a fork.
Add in pecans and dried fruit of choice.
Spray a loaf pan with cooking spray, bake for 1 hour or add 10 minutes, or until done.
Cool on rack for 20 minutes, turn out of pan.