teresas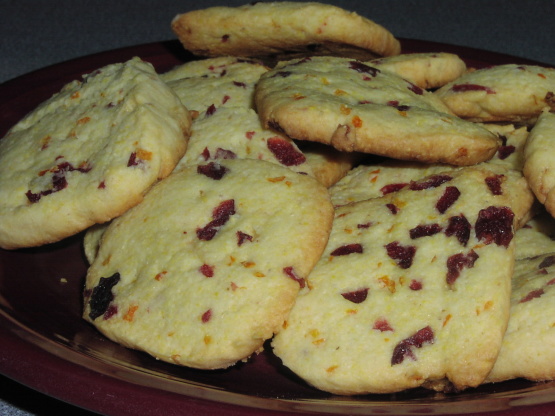 From Martha Stewart Living. Made by a co-worker for a cookie exchange. The parchment-wrapped dough can be placed in a resealable plastic bag and frozen for 3 months. The dough can be sliced while partially frozen, then baked for the same amount of time. This recipe is easily doubled or tripled. Be sure to rotate the log a quarter turn after making each slice. This will help it maintain its shape.

These are tasty little guys. I thought that they would have risen, but they were the same size going into the oven as when they came out. I did use the dried cranberries. I cut the roll in half and froze it. So have some in the freezer for later, I like that. DH ate 6 with a cup of coffee before dinner. :) flower7 thanks for posting.
In a medium bowl, whisk together flour, cornmeal, baking powder, and salt.
With an electric mixer, cream butter and sugar until light and fluffy.
Beat in vanilla, egg, and orange zest. With mixer on low, gradually add flour mixture; beat until just combined.
Stir in cherries.
Transfer dough to a lightly floured surface; pat into a log, 8 inches long and 2 inches wide.
Wrap dough in parchment; form it into a rectangle by flattening the top and sides with your hands.
Twist ends of parchment to seal. Refrigerate until firm, at least 1 hour.
Preheat oven to 350°F; line two baking sheets with parchment.
Slice dough 1/4 inch thick, rotating log 1/4 turn after each slice.
Place 1/2 inch apart on baking sheets.
Bake, rotating sheets halfway through, until cookies are firm to the touch, 10 to 12 minutes.
Cool cookies on a wire rack. Store in airtight containers at room temperature up to 1 week.