Malu8033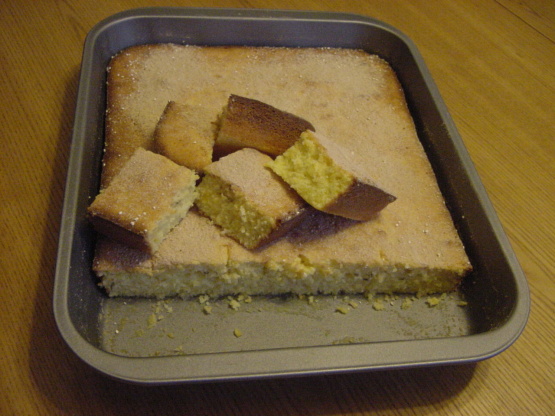 I have been using this recipe for many years and is the best I came across so far. Very easy to make, very moist and taste fantastic. Cornemeal cake is very common in Brazil , where I come from and goes very nice with a cup of fresh brewed coffee or even a nice cup of tea.

This is the best cornmeal cake I have ever made. I did them in muffin tins and baked them on 350 degrees for 18-22 minutes. They were a hit and my husbands knew from the first bite that I had did something different. We are doing renovations and I feed the crew, they just kept on eating them with molasses after they ate their stew.
Pre-heat the oven at 200°C.
Lightly oil (or butter) a non-stick 30 cm cake pan.
Mix the eggs yolk with sugar and oil.
Boil the milk and pour on the cornmeal, on a separated bowl,mixing well.
Mix this to the eggs mixture.
Sift the flour with the baking powder and add to the mixture.
On a clean bowl whisk the eggs white and fold into the mixture.
Pour this to the prepared pan and bake for 30 minutes or until the tester come out clean.