NELady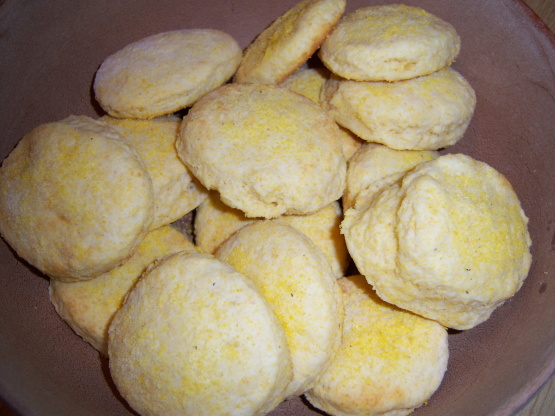 Whenever I crave fresh bread, and I want something quick I make homemade biscuits. It doesn't matter what time of day it is, I love hot biscuits. I found this recipe in Betty Crocker's Old Fashioned Cookbook (1990), and I wasn't sure about using cornmeal. WOW! These are so tasty they melt in your mouth. The cornmeal adds just a little different flavor, and you can't stop eating them. I will definitely make these again, and I don't normally make the same recipe twice. Serve with butter, homemade jam, or honey.
Heat oven to 450.
Cut butter into flour, cornmeal, baking powder, sugar, and salt with pastry blender until mixture resembles fine crumbs.
Stir in milk until dough leaves side of bowl (dough will be soft and sticky).
Turn dough onto lightly floured surface.
Knead lightly 10 times.
Roll or pat 1/2 inch thick.
Cut with floured 2 1/2" round cutter.
Place on ungreased cookie sheet about 1 inch apart for crusty sides, touching for soft sides.
Sprinkle cornmeal lightly over biscuits.
Bake 12 to 14 minutes or until golden brown.
Remove from cookie sheet immediately.