Cornmeal Battered Fried Chicken
Parsley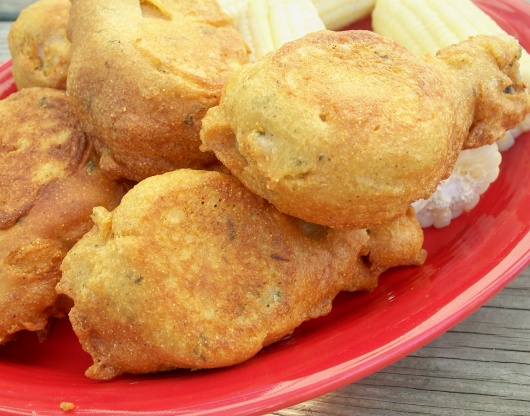 This crisp, golden coating is like a hushpuppy wrapped around every piece of chicken.
Wash the chicken and in large saucepan. Cover the chicken with slightly salted water and bring to a boil. After it boils, reduce the heat and cover and simmer for 20 minutes. (the boiling is done to almost cook the chicken so the cornmeal does not burn).
Drain the chicken and pat dry with paper towels.
For the batter: Combine all the dry ingredients in a medium bowl; mix well. Add the egg, milk, and oil to the flour mixture; mix well until smooth.
Heat oil for frying to 365°F.
Dip the chicken pieces one at a time in the batter and gently shake off the excess batter. Carefully lower into hot oil.
Fry 2 to 3 pieces at a time for 2 to 3 minutes or until golden, turning only once.
Carefully remove and drain on paper towels, or paper bag.
Keep warm while frying the remaining chicken.