COOKGIRl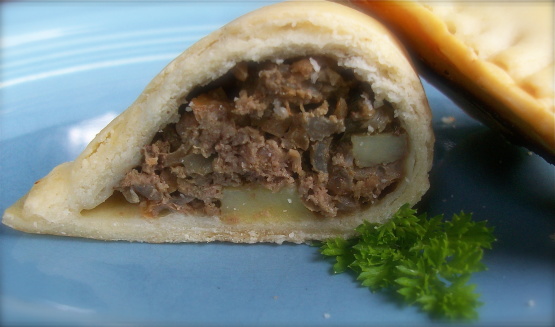 We could buy these at a local bakery where I was growing up. I loved them and would often detour by the bakery after school to get one.

I thought these were really really tasty! I used a whole lb. of ground beef, 2 large red potatoes, a large yellow onion, double spices, a few dashes worchestershire and some garlic powder... and added carrot. We made them smaller than 6" diameter, prob more about 4", which worked great because we made them as a heavy appetizer for a party and the recipe made about 25. DO NOT forget the mango chutney and make some kind of beef gravy- really adds great flavor! The dough turned out great- used a tip from America's Test Kitchen and substituted half the water for vodka= perfect!
Combine ½ cup flour, shortening, 6 tbsp ice water and salt in large bowl and beat well with large whisk or wooden spoon.
Using fingertips, blend in remaining flour until mixture resembles coarse meal.
If too dry, add up to 2 tbsp more ice water, a few drops at a time.
Gather dough into ball.
Refrigerate at least 1 hour.
Combine beef, potatoes, onion and herbs and season generously with salt and pepper.
Stir in enough beef gravy to bind mixture.
Roll dough out on lightly floured surface to thickness of 1/8 of an inch.
Using 5-6 inch in diameter, round cutter, cut 10 circles.
Preheat oven to 400°F.
Lightly grease baking sheet.
Mound meat mixture lightly in center of each circle; brush border with milk; fold dough in half over filling, pinching edges together to seal.
Brush pastries with milk.
Arrange on prepared sheet.
Bake 10 minutes, reduce oven temperature to 340F and continue baking until pasties are light brown, about 45-50 minutes.
Serve hot or at room temperature.