Cornish Game Hens With Sage and Garlic
Bergy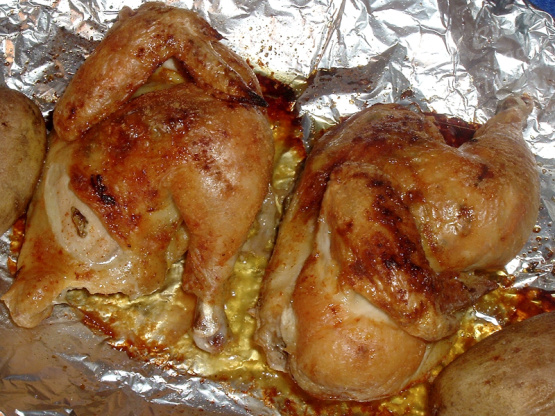 Sage is one of my favourite herbs. And who doesn't like garlic!! So this works well for me. Hope it works for you too. This can be prepared ahead of time up to the point of putting it into the oven.

I made this for Christmas dinner. We all loved it. Especially my daughter who is not particularly fond of fowl. She said it was resturant quality. I haven't made game hen often because I didn't have a good recipe but now I think we will be having it regularly...I may even slather the mix on the chickent next time we have chicken. I didn't have fresh lemons on hand, so instead of lemon zest, I used about a teaspoon and a half of lemon juce from a bottle. Thanks for helping our Christmas be delicious.
Blend 3 Tbs of butter with the sage, garlic, lemon zest, salt and pepper.
Separate breast and leg skin from hens.
Press the mixture under the skins and spread evenly.
Melt remaining butter and add paprika Brush this butter over the hens.
Place hens in single layer in shallow oiled pan.
Roast at 400 F, uncovered, 40 to 45 minutes.
Baste twice with pan drippings.