Cornish Game Hens With Peach Glaze
lazyme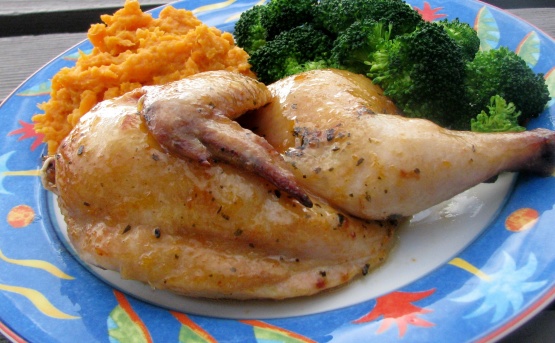 These are delicious cornish game hens, They take awhile to prepare ,but, are worth it. I have tripled the recipe. these are a family favorite. I found the recipe some time ago on the web.

I made this last night. I didn't have any peach preserves but I had some peach amaretto butter that I made last year so I used that instead. All my husband could say was WOW! This is a great recipe, I have some sand plum jelly I think I'll try next time. Thanks Barbara for a great recipe!
2

Cornish hens
1⁄3 cup salt

2

tablespoons butter
salt and pepper

Glaze

1⁄2 cup peach preserves (can use Apricot)
1⁄2 cup butter
Cut the hens down the backbone (split).
Brine the hens: dissolve the salt in water,put hens& salted water into large bowl.
(I usually put them into a large plactic bag) refrigerate 2 to 3 hours.
Remove hens, Rinse thoroughly, pat dry, prick the skin allover the breast and legs with point of paring knife.
Melt the butter in small pan& mix with preserves.
Add salt, pepper& basil.
Preheat oven to 400 degrees.
Place hens in shallow pan (I usually line pan with foil for easy clean-up).
Rub hens with butter.
Spoon butter& preserve mixture over hens.
Bake 35 to 45 minutes.