Tantric1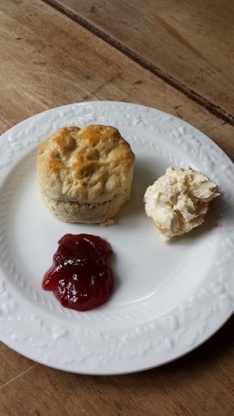 After living in the UK and rightfully becoming a scone, jam and clotted cream addict... I had to learn how to make Cornish cream at home. How hard could it be? Well... harder than you would think, for all the wrong reasons. It seems that finding the right cream is the real challenge. The best Cornish cream is made from fresh, unpasteurized, cream. In our ultra-pasteurized world, it is next to impossible to find unless you have a diary farmer tucked into your list of bff's. To further complicate things, I now live in the Netherlands. One would think that with all of the cows here (happiest cows on earth) it would be easier. No, no no no. Think again. So, I have modified, and tweeked a bit here and there to create clotted cream that is still a little piece of heaven on earth. That being said, if you can get your hands on unpasteurized cream to make this recipe, by all means use it! Also consider smuggling me some :)
Pour cream into a oven proof pan, 8x8 preferably corning wear or other earthen pan. Minimally leave 2 inches from the top once poured inches Heat oven to 80 degrees Celsius. Cover pan with aluminium foil and place in oven for 10-12 hours.
The idea is for the milkfat to rise to the top and the whey will be left underneath. Carefully remove the pan to keep it even and not bust through the top layer of butter fat.
Let cool on stovetop for about 30 minutes and then refrigerate for 8 hours.
Take out of fridge and skim clotted cream off the top with a slotted spoon to drain any of the milk that may get on spoon, let it drip off. Place clotted cream in a sealed container, will stay good for 3-4 days.