Derf2440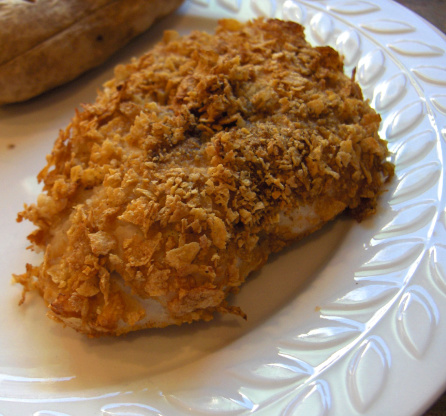 From 3 fat chicks on a diet, here's a recipe that offers a tasty crunch, lowfat chicken, and a real kid pleaser. I made this once so far and I will be toying around with the seasonings, because it needs some punch to it. Maybe some sort of italian spices would do it, but it might just be a job for paprika. If you try this, please let me know what you think! I served it with a crockpot green bean casserole and broc. with light velveeta cheese.

So I took the last reviewers advice and added more spices to the Cornflake mix. I used lemon pepper, rosemary, paprika, thyme, and sea salt.

The only thing I didn't like was that the milk didn't help the crumbs stick very well. Maybe next time I'll add some honey or raw eggs to the milk mix.

We'll see.

Oh! And I cut the chicken into small pieces (about 0.5-inches x 2-inches) so I only needed to cook the chicken for about 21 minutes.
Combine cornflake crumbs and seasonings in shallow bowl. Soak chicken in milk then dredge chicken in crumb mixture. Place on baking sheet which has been sprayed with nonstick spray. Bake at 400* about 25 minutes or until lightly browned.