Derf2440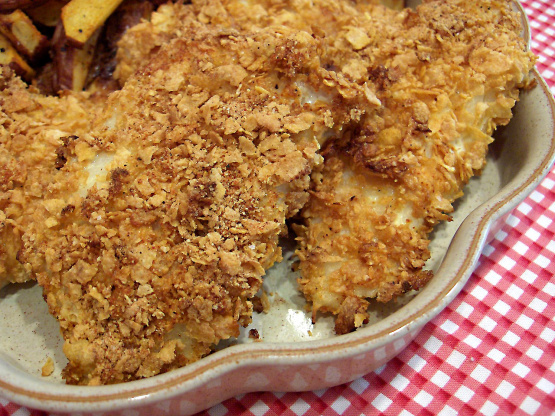 From Kimberly Tessmer, R.D., L.D. from a magazine which described this as: "a heart-healthy meal that tastes as good as it looks."

I will be using this recipe often, it's definitely a keeper in my house. I used tilapia because that's what I had, and one whole egg instead of two egg whites for dipping. Also, to the egg, I added about 2 tbsp of a "herb and garlic" marinade. I forgot the paprika when making the coating mixture, and I'm sure it will be a fabulous addition next time. I did add a dash of red pepper flakes. I did not have any bread crumbs on hand, and I'm sure there would have been enough coating for my fish if I had added those. With just the cornflakes, it was not enough to coat a pound of fish, but the fillets that did get coated were super crunchy and yummy. I also thought the kosher salt did not distribute evenly even though I pulsed everything together in the mini food processor - some bites were saltier than others. However, the brand of kosher salt I bought last time seems chunkier and larger than usual, so maybe that was the problem. An easy enough problem to correct the next time. My husband complimented the fish highly, and he rarely makes any comments so I knew then it was a definite keeper. Thanks for posting!
Preheat the oven to 400 degrees F.
Divide the fish into 4 even pieces.
Pour the cornflake crumbs, bread crumbs, and the spices into a shallow, wide bowl and mix.
Beat the egg whites in a separate bowl and dip each piece of fish into the egg and then into the crumb mixture to coat. Repeat for each piece of fish.
Use non-stick cooking spray to coat a baking sheet and place the fish on the sheet and bake for 8-10 minutes, until done. Serve with lemon wedges.