Bergy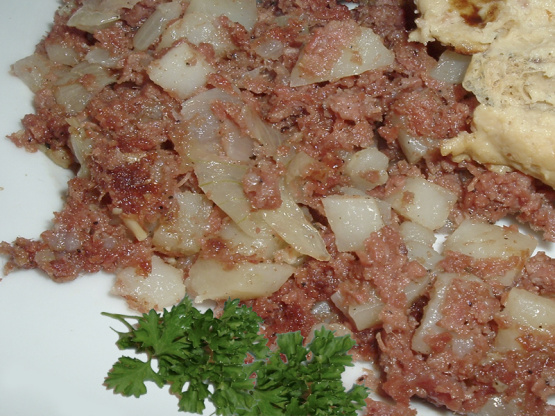 Easy on the budget and strong on the taste. Simple to make and quick too.
I am so happy to see you have almost the same recipe my Momma used and I use to this day. However I do fry a about two strips of Bacon before I add the onion. But all is just about the same. Thank You so very much for taking me down memorylane with this recipe. Hugs 2 U
Peel potatoes and cut into 1" cubes.
Chop onion.
Heat iron skillet over high heat until hot to prevent sticking.
Crumble the corned beef and place in the skillet, add potatoes and onion.
Cover with water and bring to a boil.
Turn heat down to barely boiling and cook until the potatoes and onions are done.
Stir occasionally to prevent sticking and add more water if needed.