Corned Beef / Corned Silverside for the Crock Pot
Parsley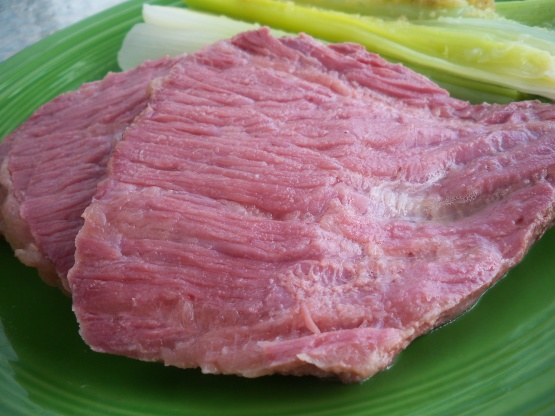 Beautiful slow cooked corned meat. Put it on in the morning and it's ready by dinner time when you arrive home. This recipe actually came with my Sunbeam Slowcooker/ Crockpot and my family really loved it. It was so tender and moist

I'm so glad I found this recipe back as I hadn't saved it. This recipe is so simple and very good. When I've decided it's done cooking, I take out and cool, to get it cut into beautiful slices. I've saved recipe this time and printed out also.
Take the meat out of it's packaging and rinse under the tap. Place in the crockpot.
Add the remaining ingredients and enough water to barely cover the meat. I leave the peppercorns whole.
Place on Slow setting and cook for 8 to 8.5 hours or on High setting for 4 to 4.5 hours.
When done, remove the meat from the crockpot and wrap in aluminium foil until ready to slice (this will keep your meat moist).
Enjoy!