Ms B.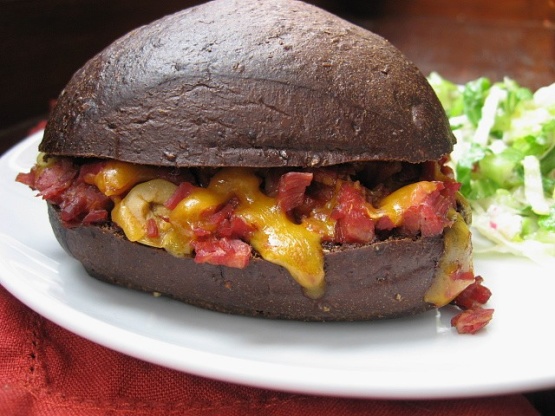 Very easy recipe and goes great with a cup of soup. I got this recipe from my mom.

Top Review by Ms B.
I needed to tackle some leftover corned beef, but didn't feel like Reubens. I have to admit that I was a little sceptical about the combo of ingredients for the sandwich filling (using my leftover corned beef instead of canned), as I usually think of Thousand Island dressing, mayo, or mustard combined with corned beef, and the cheese of choice is usually Swiss. However, the ketchup and cheddar didn't disappoint. The olives were an unusual twist but gave a nod to the strong "pickle-like" flavor of the sauerkraut that is usually paired with corned beef. I used pumpernickel sandwich rolls instead of regular hamburger buns, and liked the added flavor and heartiness that these gave the sandwiches. I paired with Recipe #52642 in which I subbed green cabbage for the red, and red onions for the green (just due to what I had on hand). Yummy and easy dinner.
Open buns and remove the soft centers.
Combine the corned beef,worcestershire sauce, cheese,catsup, olives mix well.
Then fill the buns with this mixture and place the top back on.
Wrap each sandwich with foil.
Heat oven to 375 and place in oven on sheet for 25 minutes.
These sandwiches freeze well.
The soft centers can be cubed and seasoned for crutons.