Corned Beef and Cabbage - Crock Pot
Peter J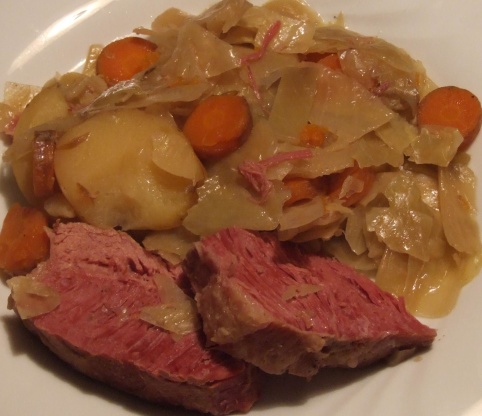 This is adapted from a recipe on southernfood.about.com - it is really easy and delicious. Just be careful that you don't let the cabbage get into contact with the sides of the crock pot or it will burn where it touches the appliance.

Top Review by Sazza
This was an incredibly easy dish to make - so easy in fact that even my DH was able to put it together during his lunch break before going back to work! :) When we both got home we didn't have to worry about chopping up any vegetables to put with it. We also used the juices to make a beutiful gravy and just dished it all up. It was a great one-pot meal! The only thing I would do next time, and this is just personal preference and something I usually find with corned beef anyway, is to maybe soak the meat for a few hours in hot water to get rid of some of the saltiness in the meat. Either that, or to pour the water out half way through cooking, add in some fresh water and finish cooking. This is a meal I will certainly make again. Thanks Sussan!
Lightly butter or spray a crock pot.
Layer potato slices over bottom of pot with carrots.
Place corned beef on vegetables.
Slice cabbage into wedges and arrange around meat.
Sprinkle with pepper and add water.
Cover and cook on LOW setting for 7 to 8 hours until meat and vegetables are tender.
Remove meat to platter; cover with foil and rest for 10 - 15 minutes before slicing.