Parsley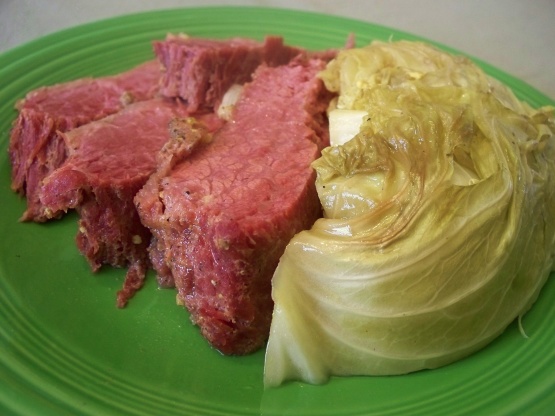 Ready For St. Patricks Day?To serve corned beef brisket cut it across the grain into thin slices.

Rhonda, your corned beef brisket turned out quite moist and juicy, made exactly according to your instructions. I have been making corned beef brisket for a long, long time and have become used to the standard spices that I use normally (bay leaves, peppercorns, etc). I'm sure that there are many who will enjoy the flavor of the apple juice, brown sugar and orange rind. Although, I am always willing to try new dishes, sometimes they do not always work out for me. I guess I am an old die-hard traditionalist.
Place onions in a 3 1/2-, 4-, 5-,or 6-quart crockery cooker.
Trim fat from brisket.
If necessary, cut brisket to fit into cooker: place atop onions.
In a bowl combine apple juice, sugar, orange peel, mustard, and cloves: Pour over brisket.
Place cabbage atop Brisket.
Cover: cook on low setting for ten to twelve hours or on high for 5 to 6 hours.