Peter J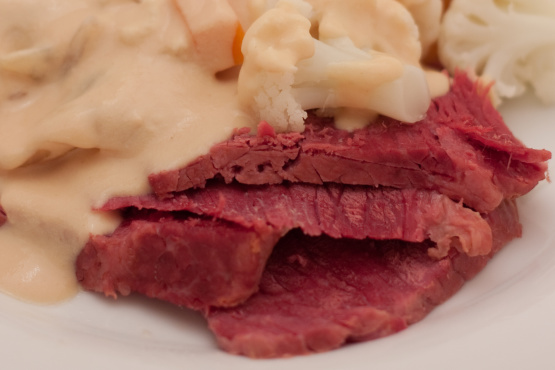 The way my mum made it, the way I make it. Mum used to cook her veggies (potatoes, carrots, parsnips, tiny onions) in the water, putting them in about 45 minutes before the meat was cooked. I find them over salty done this way. Reserve a half a cup of strained cooking liquid to make my Mustard Sauce for Corned Beef Mustard Sauce for Corned Beef.Leftovers make good sandwiches with relish or chutney.

This was wonderful! I had never cooked corned beef before (other than boiling in a bag) and this was a great, easy recipe. My corned beef was a little smaller, maybe 1.5lbs so I simmered it for about 1.5 hours instead of 2. Great taste, easy to make, my family of 4 loved it. We also used the mustard Mustard Sauce for Corned Beef which was a perfect match. Loved it!
Place all ingredients in a large saucepan, making sure there is enough water to cover the piece of meat.
Bring to the boil, then cover and reduce heat to a simmer and cover with a lid.
Cook for about 2 hours, or until very tender.
Allow to rest in the water for about 20 minutes before slicing.
Recommend serving with Mustard Sauce for Corned Beef recipe#21617.