ImPat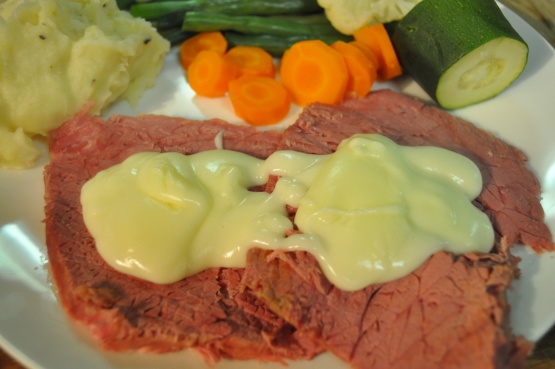 I know there are a lot of fancier versions of corned beef on here, but this is the way my Mum always makes it, and my sister, and until now, it has always been my way of doing it too. I plan to start trying some of the other recipes on here, but something tells me I'll keep coming back to this one.

Top Review by ImPat
I ventured into this with trepidation in trying to convert the DH into liking corned beef (been at it for 20 years) and he declared this the best I had made so far BUT still does not want it on a regular basis so at least at this stage I have hope of having it occassionally (I love the stuff, one of the few salty food I really like but that it getting corned beef in a low sodium mix). I didn't add the carrot as neither the DH or I really like vegies cooked with the corned beef or pot roasts for that matter (we feel they take on too much of the fat and don't enjoy). I used a corned beef piece that weighed about 1.3k (after cutting of some excess fat) and put in the crock pot on low just after 10.00am and it got plucked out just after 7.00pm covered in foil and rested and it was well cooked but still beautifully moist. Thank you Sara 76, made for Bargain Bbasement.
Place vinegar, sugar, and sauce into the crockpot. Add about a cup of water and blend all the ingredients.
Add silverside, and add enough water to cover. Cook on high for at least 4 hours, adding the carrots for the last hour.
I like to leave mine simmering in the crockpot for asd long as possible, all day is best, but 4 hours is enough.
To serve, cut the meat against the grain, and serve with the carrots, and some mashed potatoes, green beans, and white sauce. Yum!