Cornbread Panzanella Salad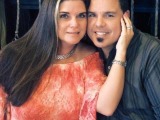 This recipe is courtesy of Giada De Laurentiis. The taste is healthy and light.
Directions
Combine all the ingredients in a large bowl.
Toss gently to combine.
Place in a serving bowl and serve.
Most Helpful
This recipe is fabulous; especially in the Summer when you can get fresh vegetables. My neighbor saw Giada make this during the Summer and made it first then, and for a second time with dinner tonight! Highly recommended and worth putting in a permanent cookbook!

I found this recipe in a local newspaper which credited it to Giada, who I love, and had to try it for a small holiday gathering. I used Jiffy cornbread and doubled the recipe and the result was MARVELOUS and very different from the traditional holiday fare. It does taste very light, but don't be fooled--the huge amount of oil makes this anything but a low fat item...over half the calories are from fat! To appeal to my health-conscious guests, I used about half the olive oil, and found that there was PLENTY of dressing...I can't imagine using all that the recipe called for! I may try flaxseed oil next time for an even lighter option. Anyway, thanks, Juenessa, for posting this recipe!