-Sylvie-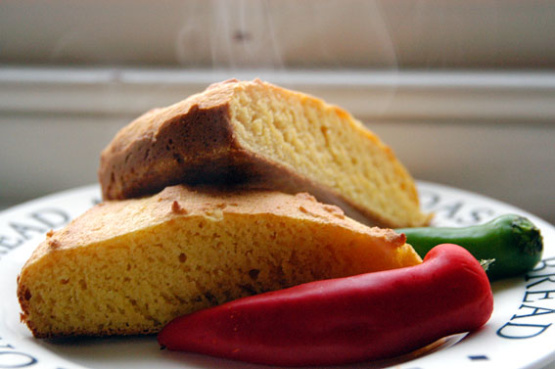 This is an adopted recipe and is a lowfat twist on southern cornbread. I still prefer my regular skillet cornbread, but if low fat is one of your requirements you might like this one.

A big bowl of spicy chili and a slab of cornbread is my definition of comfort food. I made this using whole wheat flour as that was all I had at the moment; to compensate, as experience tells me it absorbs a little more liquid than all purpose flour, I added an extra tablespoon of yogurt to my half batch. Prepared mine in a preheated cast iron skillet and was rewarded with a low rise bread with a crispy exterior and dense and chewy interior. Just perfect for sopping up my chili. Thanks! Made for PAC 2008.
Preheat oven to 400 degrees.
Beat egg whites until soft peaks form.
Mix dry ingredients together in bowl.
Stir in yogurt.
Fold in the egg whites.
Mix well.
Bake at 400 degrees in 8" square or round pan. (I used a cast iron skillet sprayed with cooking spray) for about 20 minutes.