PaulaG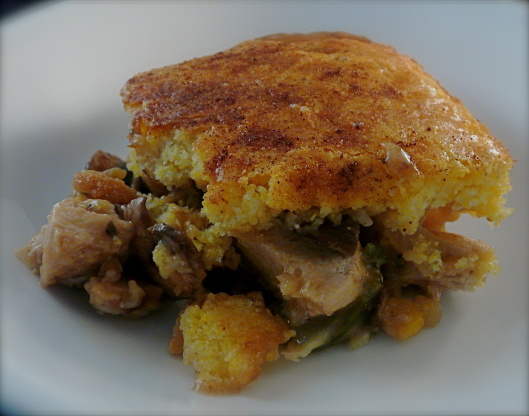 This is another great country dish, a bubbling chicken pie, that will take you over the edge. Quick and easy to make and very tasty. A dish from the Ottawa Valley.

Top Review by yonkk
Loved it. I am a beginner cook, always looking for something that seems easy.
This recipe made me look like a very good cook. Like to read the reviews and see what other have done just a little different. Of course I also tweaked the recipe a little. Used no mushrooms, but used a small bag of mixed vegetables, and used a packet of Mexican Cornbread for the topping.
I was worried the cornbread mixture would not get done, but the cornbread mixture combined with the vegetables was perfection.
2

chicken breasts, large, halved
1⁄4 cup butter
1⁄2 cup onion, sweet, chopped

1

shallot, french, large, sliced
1⁄4 cup mushroom, cremi, sliced

1

cup bell pepper, sweet (mixture, red or orange or yellow)
1⁄2 cup corn, frozen, peaches and cream
1⁄4 cup flour

1

teaspoon salt, sea

1

teaspoon oregano, fresh, chopped
1 1⁄2 cups milk
1⁄2 cup broth, chicken
1⁄2 cup cornmeal
1⁄2 cup flour
1 1⁄2 teaspoons baking powder
1⁄2 teaspoon salt
1⁄4 teaspoon sugar

1

egg
2⁄3 cup milk

3

tablespoons butter, melted
1⁄2 cup monterey jack cheese, shredded
1⁄2 teaspoon paprika
1⁄4 teaspoon oregano
Preheat oven 425°F.
Put chicken in pot, pour in just enough water to cover, bring to a boil, then simmer for 20 minutes.
Drain, remove the chicken from pot, deskin, debone and cube.
Place the cooked chicken in the fridge until needed.
Melt butter and saute onions, shallot, peppers, mushrooms and corn 5 minutes.
Add flour, and cook for 1 minute, now add the salt and oregano, then slowly in the milk and broth.
Stirring often, cook until the mixture has thickened, add chicken cubes.
Pour into a round baking dish.
In a large bowl, combine the cornmeal, flour, baking powder, salt and sugar.
Blend in the egg, milk and butter.
Stir in the cheese and pour over the chicken mixture, sprinkle with paprika and oregano.
Turn oven down to 400°F and bake for 20 - 25 minutes or until the crust is golden.