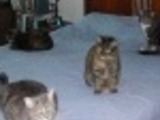 Posted for Zaar World Tour 2005. My BF made this dish tonight, with the freshest zucchini and corn on the cob, it was delightful. He reduced the oil from 4 tablespoons to 1, and sprinkled liberally with pepper and omitted the parsley. Simple preparation, outstanding results. From a special issue of Saveur, the best of Tex-Mex Cooking.
Directions
Cut sqash in half lengthwise and thinly slice crosswise and set aside.
Heat oil in a large skillet over medium heat. Add onions and cook, stirring frequently, until soft, 2-3 minutes.
Add squash and cook, stirring often, until just soft, about 6-8 minutes.
Add corn and cook, stirrig often, about 5 minutes more.
Add parsley and season to taste with salt and pepper.
Reviews
Most Helpful
This is a great side dish. I halved the recipe but used 1 small onion. I used frozen corn kernels, thawed. We loved it :) Thanks Kumquat :) Made for the Saucy Senoritas of ZWT5
This was great! I can't wait to make it again this summer when I can use my own homegrown vegetables. Thank you!

Very similar to a dish I've eaten all my life, except Mama would fry up some chopped bacon first, then add the veggies. The corn has to be fresh, though - canned or frozen just doesn't do it justice. Thanks so much for posting!