hojo1620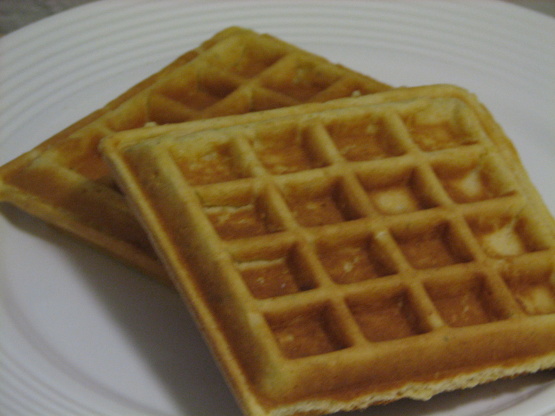 From the book that came with my waffle maker. I make the whole batch, then freeze any leftovers, which become a quick breakfast during the week. These taste like cornbread, so you could have them for lunch or dinner with chili on them, etc.

I halved the recipe using the "change serving" feature. The batter was a bit runny and I let it stand as the recipe stated. I ended up adding a little more flour to thicken. These tasted great! My husband didn't even notice the cornmeal in them until I told him. I liked that they are more dense and hearty than the typical waffle.
Place all ingredients in large mixing bowl.
Combine until well-blended and smooth.
Let batter sit for 5 minutes and rest.
Pour 3/4 c.
of batter onto waffle iron, spread with rubber spatula.
Let batter bubble for 5-10 seconds, then close lid.
Repeat until batter is finished.