GaylaJ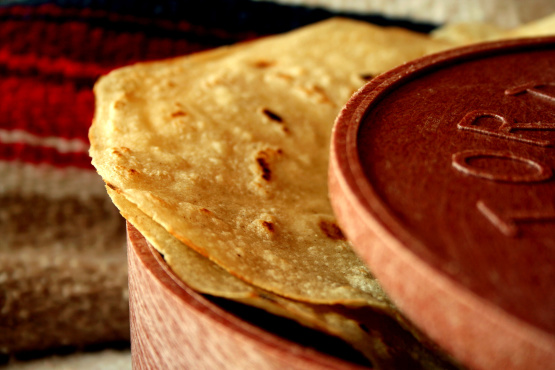 Home-made corn tortillas! Great for home-made corn chips, enchiladas, tacos, quesadillas--everything! A money-saver too, considering how much chips and store-bough tortillas can be. Prep time includes 30 minutes "sitting time."

I have been using this same recipe for years and we LOVE it! But believe me, don't leave out the salt! Using this recipe, I now make my enchilladas "grandma" style. Stacking enchilladas,lasagna style, like we learned while living in New Mexico, instead of rolling makes great individual casseroles. Yummie!
Mix flour and salt, then add warm water.
Knead until a soft dough forms, adding more water or flour as needed.
Tightly wrap dough in plastic wrap and let sit for 10-30 minutes.
Divide dough into about 16 balls, about 1/2-inch in diameter each.
Place each ball between 2 sheets of plastic wrap or waxed paper and roll into 5-inch round using a rolling pin, heavy flat-bottomed pan or tortilla press (available at cooking. com[http://www. cooking. com/products/shprodde. asp? SKU=116136]).
If the edges of the tortilla are uneven and crumbly, the dough needs a little more water.
If the dough sticks to the waxed paper and it is very soft, add a few tablespoons of flour.
Repeat with remaining dough, leaving each tortilla between the sheets of waxed paper.
Heat an ungreased cast iron griddle or large non-stick skillet over medium-high heat.
Peel off the top sheet of waxed paper and invert the tortilla into the hot pan, quickly and carefully peel off remaining wax paper.
Cook tortilla until stiffened, about 30 seconds; turn for 1 minute or until it is lightly browned, then turn to the first side for 30 seconds.
The cooking time for each tortilla should be less than 2 minutes, do not cook until crispy.