Corn, Tomato, and Black Bean Salsa
Bergy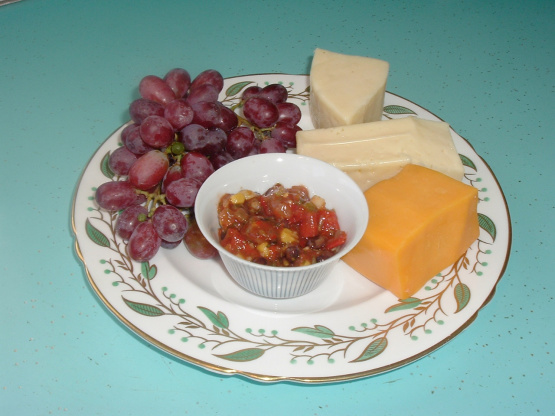 This is an excellent dish alone or as a side dish for both hot and cold entrees. Best if allowed to stand at least an hour in order to marinate the flavors. Can even be made a day or two ahead, as the flavors get even better.

This was so yummy! I made it to go with some corn fritters and burritos and it made the dishes even more exciting. Very fresh flavours! Will definitely use this recipe again. Thank you!
To make red chile honey: Mix honey, red chile powder, cumin and garlic salt.
Combine all ingredients in a small saucepan on low heat and cook for 1 minute, stirring constantly.
To make salsa: Lightly saute the onion and garlic in the olive oil until soft.
Mix the chopped cilantro, cumin seed, jalapeno, vinegar, honey, and salt together in a large mixing bowl.
Add the corn, tomatos, black beans and sauteed ingredients.
Stir to combine thoroughly.