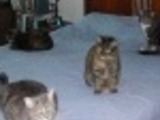 From the 8/2009 edition of country living. Great no-cook summer recipe if using leftover rice. I reduced the olive oil to 1 tablespoon from 4. Easy to make, fresh tasting, quick and inexpensive too. You can also double the stuffing and eat the rest as a salad (without the tomato).
Directions
In a large bowl, toss all ingredients together except for the tomatoes, and set aside. Slice tops off tomatoes and remove insides. Fill each tomato with 1/2 cup corn-rice mixture and serve.
Reviews
Most Helpful
Delicious tomatoes! I omitted the salt (personal preference) and am looking forward to enjoying this during the hot summer months, as suggested! I had plenty of leftover filling, which was good by itself too. Thanks for sharing!

Wonderful! We made this as written except that my cilantro had gone bad (boo) so I substituted some ground coriander seed. It was outstanding. Just the filler alone would have been a great side dish. It was very filling. We had this with #47391 it made a perfect meal! (Oh, btw, I halved the filler recipe, but stuffed 2 very large tomatoes.)

We loved this!! My three year old daughter and I had so much fun putting this together with brown rice and both yellow and orange pepper. The colors and flavors were fantastic and it was so quick and easy. We BBQ'd steak to go with it and had a wonderful summer meal. The only thing I will do differently next time is use the entire avocado. Thank you so much for posting. I haven't found a recipe I have loved as much as this in a long time.