PaulaG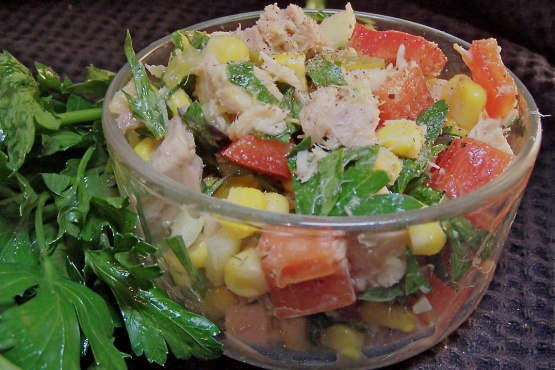 One very easy and tasty salad for all the corn lovers. Perfect as a cold lunch during summer. Update: The last time I made it, I also added a green onion and it was very good.

The weather is warming and my appetite for salads has returned from winter hibernation. The unusual combination intrigued me but I love tuna and it's versatility. I made two substitutions in my preparation; first reducing the oil to a meager 2 teaspoons for my low-fat diet and the other to replace the pickle with 1/2 of a small red onion finely diced, as I am not fond of the former with tuna. The salad was just wonderful with sweetness, crunchiness and tang filling each forkful. Moreover this dish is gorgeous and visually appealing with the vibrant colors of the corn and peppers against the verdant parsley. Thank you so much for sharing katia. Made for *Went to the Market* game. .
Mix the corn with tuna, peppers, parsley and the pickles.
Add the lemon and the olive oil to the salad, add the seasonings and mix well.
Let it cool in the fridge for 2 hours and serve!