twissis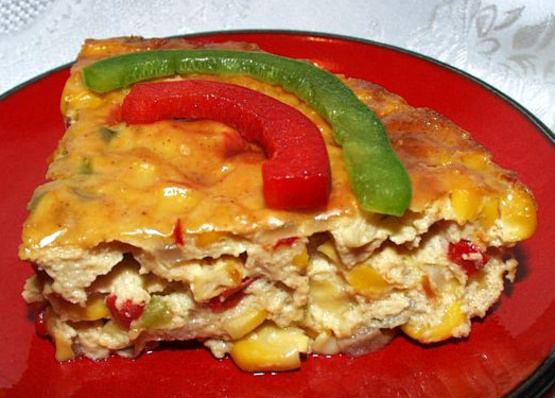 Lovely!! make it as hot as you like. I made this during the winter and substituted frozen defrosted corn for the fresh, turned out great!

This was very good right out of the oven, and it makes good leftovers, too. Next time I make this, I'll probably add a bit more spice to it (not the cayenne, just the cumin and chili powder). Thanks for the simple and satisfying recipe!
Coat a large frypan with cooking spray, and place over medium heat until hot.
Add onion and cook 1 minute, add bell peppers and cook 1 minute or until crisp tender.
Add flour and next 4 ingredients, cook 1 minute, stirring constantly.
Add milk, and bring to boil, stirring constantly, cook 1 minute.
Remove from heat.
Add corn and eggs to bell pepper mixture, stirring well.
Spoon mixture into a 2 quart casserole coated with cooking spray, bake at 350 degrees for 40 minutes or until browned and centre is set.
Garnish with bell pepper rings.