Corn Potato Soup for the Crock Pot
DuChick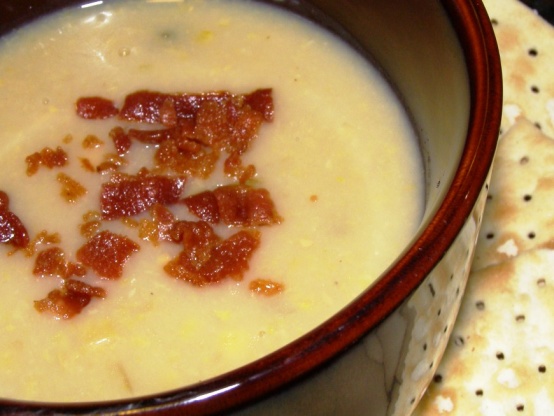 Every Monday is Soup Day at my house. I had some potatoes I needed to use up so this soup was born. I really like meals that I can use what's on hand. This is nothing fancy just a tasty easy soup.

This was very good, although a tad sweet. It could've been the brand of creamed corn though. Still gets 5 starts because my baby loved it! I cooked it all day on low b/c I work FT and it turned out just fine, and I used light cream instead. I didn't even blend half of it, I just used my potato masher for a few mashes to thicken it up.
Saute onion, celery, and bell pepper to translucent in the olive oil.
Pour all ingredients except heavy cream and whole corn into crock pot.
Cook on high for 4 hours.
Blend 1/2 the ingredients in blender and pour back into crockpot.
Add Heavy cream and whole sweet corn.
Let warm for about 30 minutes.
Serve and Enjoy.
I will sometimes add cheese and or sour cream when serving if anyone.
wants it.