Corn, Potato and Chicken Soup
JustJanS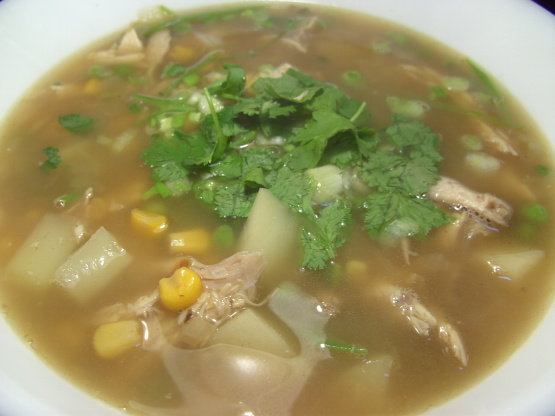 This is such a nice soup, a little different to the normal soups I serve, but lovely and filling and so warming on a cold night! Just the thing served with warm crusty rolls or bread! This is a recipe I found in the Herald Sun, so I have copied as written and made only a few changes...... but I did used canned corn, dried chilli and frozen peas, and used parsley instead of coriander.

This was a lovely fresh tasting soup that we enjoyed very much thanks Tis. I managed to halve the oil and used a skinless breast from a chicken I roasted the night before last to make this even lower in fat. I used my hoemade chicken stock in this too. Much appreciated on a cool night.
Place onion and oil in a large saucepan and cook gently until the onion softens.
Add cumin & chillie and cook for 2 minutes, then add the stock and potatoes and simmer for 10 minutes.
Add the corn, peas and snow peas and chicken then simmer for 4 minutes, when simmered add lime juice, salt and pepper.
Served the soup ganished with the coriander and spring onions.