Corn Potato and Cheddar Cheese Chowder
Parsley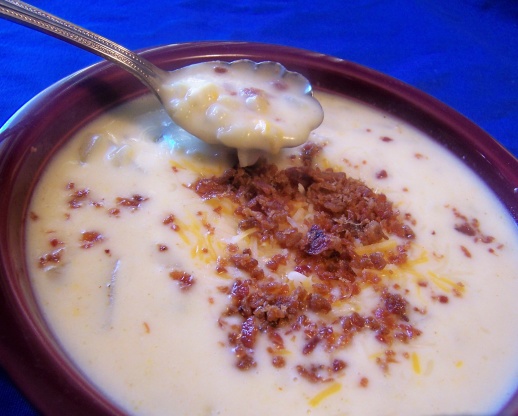 Adjust ingredient amounts to taste.

Top Review by Bobbie
I hate giving this 2 stars -- but it really was just "OK" for us. I think it was the cumin -- it just didn't seem to "compliment" the potatos and cheese. My onion was large -- and I wished I had only used half of it. I'm not sure I'll make it again. I have a lot of your recipes, Kittencal -- and this is the first one that we've really not enjoyed to the fullest. Thanks, Bobbie
Cook the bacon in a heavy 3-4 quart saucepan over medium heat until crisp; transfer to paper towels using a slotted spoon when cool enough to handle, crumble into small pieces; set aside.
Melt butter and sauté onion and cumin until softened (about 4 minutes adding in the garlic the last 2 minutes).
Add in the flour and whisk for 1 minute.
Add/whisk in the broth; bring to a boil, whisking occasionally.
Add in the cubed potatoes and simmer, covered for about 6-8 minutes (until JUST tender).
Stir in the whipping cream and corn, season with cayenne and salt; return to a simmer until the corn is heated through (about 2 minutes).
Add in 1/2-pound grated cheddar, stirring just until the cheese has melted (do not let boil).
Ladle into bowls, top with about 1/4 cup grated cheddar and then crumbled bacon.