PaulaG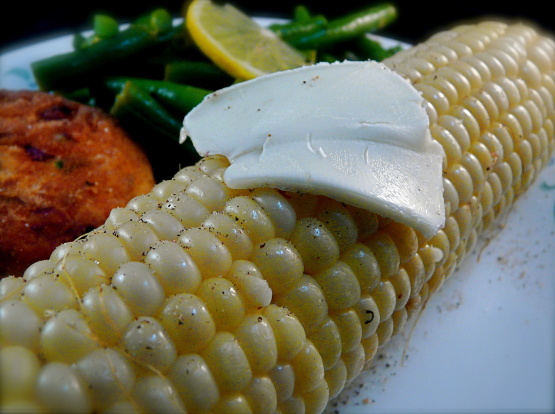 We have been given some fresh corn by friends, since it was so fresh I didn't want any of the corn flavour to be removed so I boiled the corn. This dish is simple yet quick could be used as a side dish or plate filler.
Top Review by PaulaG
This is the way I grew up eating corn on the cob and I can't remember the last time I boiled it! This really brought back delicious memories. The corn was topped with butter, salt and freshly ground black pepper. Made for Aussie Swap.
1

corn on the cob, remove husks

Optional Topping

salt, to taste (optional)
ground black pepper, to taste (optional)
In a large pot, enough to hold the corn, fill it with water to cover the corn (the corn should float).
On a medium heat allow the pot of water to boil. Once the water is boiled, add in the corn into the pot and cover. Cook for 10-15 minutes depending on how soft you want your corn.
Drain water and remove corn on the cob. Be careful as cob will be extremely hot.
Top the corn with preferred seasons, herbs and spices. I prefer salt, pepper and butter.
Enjoy.