Corn Muffins with Sweet Red Peppers
Derf2440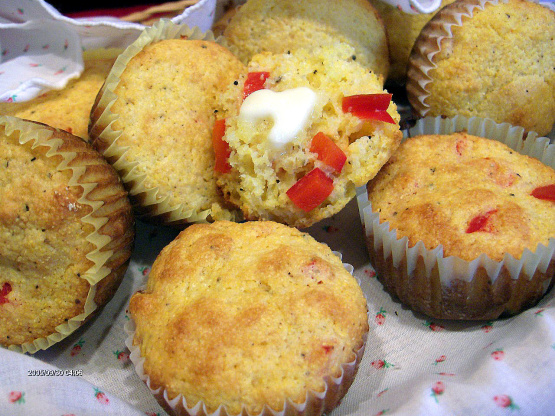 Compliments any BBQ, great taste!! from Canadian Living mag.

These muffins taste great! They were quick to make and the instructions are bang on. I lightened them up a little bit by using low-fat egg substitute instead of real egg. My only complaint about these is that they are pretty small muffins. Next time I might try making them in the cake pan and see if I get bigger squares out of the recipe that way. But they're still worth it for the great taste - not too sweet and not too grainy!
In large bowl, combine flour, cornmeal, sugar, baking powder, salt and pepper.
In small bowl, beat together buttermilk, oil and egg, stir into dry ingredients just until moistened.
Stir in red pepper.
Spoon batter into well greased or paper lined muffin cups, filling each two thirds full.
Bake in 425f degree oven for 15 minutes or until tester inserted in centre comes out clean.
Or bake in 8 inch square baking pan in 425f degree oven for 20 minutes or until firm to the touch.
cut into squares to serve.