Corn Fritters With Scallions
dicentra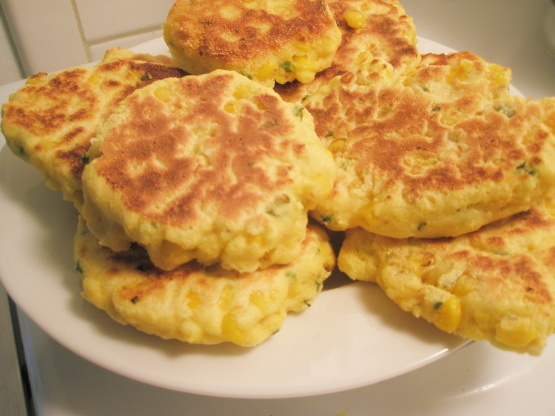 A slightly adapted recipe from the cookbook 1,000 Vegetarian Recipes by Carol Gelles. Corn truly is the food of the gods.

These are yummy!! I made mine a little larger than directed, using half a can of corn. I served mine as a side dish to shredded beef tacos. Came together in no time. Better if you let the batter sit for a few minutes. Reheats wonderfully. Thanks for a great recipe.
In a medium bowl combine the cornmeal, flour, baking powder, salt, pepper and nutmeg.
In a large bowl beat the egg. Stir in the milk and reserved corn liquid (or water).
Stir in the dry ingredients and blend well.
Stir in the corn (if using frozen corn, defrost first) and green onions. For best results, refrigerate batter for 30 minutes.
In a large pan heat some oil until it bubbles when a small amount of batter is dropped inches.
Dip a utensil into the hot oil to coat and then measure out 1 rounded tablespoon of the cornmeal batter into the pan.
Cook fritters until golden on one side then turn over and cook until golden on other side.
Remove fritters from the pan, drain on paper towels and transfer to warming platter.
Serve warm with garnish of green onion slices and red pepper flakes if desired. Season with salt and pepper if necessary.
Yield: I eat these too fast to remember how many fritters the recipe yields! Also, be sure your cornmeal is fresh.