Prep 35 mins
Cook 40 mins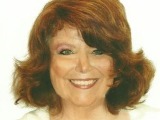 This is a wonderful casserole to serve at your next barbeque! The really big problem is to keep sticky hands out of the fritters as they cool! This takes some time to make, but the compliments to the chief with outweigh the time!
Directions
For Fritters: In a large bowl, stir together the sugar and melted butter.
Sift together the dry ingredients.
Add the milk and beaten eggs to the sugar mix and then slowly introduce the dry ingredients.
Add the drained corn.
Mix until moistened.
In a non-stick fry pan on medium high heat, add just enough vegetable oil to coat bottom of fry pan.
Drop a serving size spoon full of corn fritter mix in fry pan.
Do not let Corn fritter patties touch one another while frying.
Cook on each side until lightly golden.
When done place on paper towel to drain.
You may need to add more oil while frying all of the corn fritters.
When fritters have been completed let cool on paper towels.
Casserole: In fry pan add 2 Tbs.
of butter, place onions and bell pepper in fry pan.
Sautéé on medium low heat until onions are transparent.
Remove fry pan from heat and set aside.
Place chicken bouillon cubes in 1+1/3 C.
of water and dissolve.
In large bowl crumble corn fritters, add sauteed onions and bell peppers, add 3 Tbs.
melted butter.
Pour dissolved chicken bouillon and water mixture over corn and sauteed vegetables and mix well.
Place mixture in well oiled 8"x 8" baking pan and cover with foil.
Place in a preheated oven at 350 degrees for 20- 25 minutes.
Remove foil and place back in oven for 10- 15 minutes.
Most Helpful
One of my favorite recipes. I also use jiffy mix instead of cornmeal and flour, works great that way. My friends love it when I make this for a side dish. Greasy yes, but oh so delicious!!
A bit greasy, but great to use with a barbeque! I like the fritters by themselves.
From me - IF the batter is a little thick, you may thin it with either some milk or water. Also -Jiffy Mix may be substituted.