MelNTex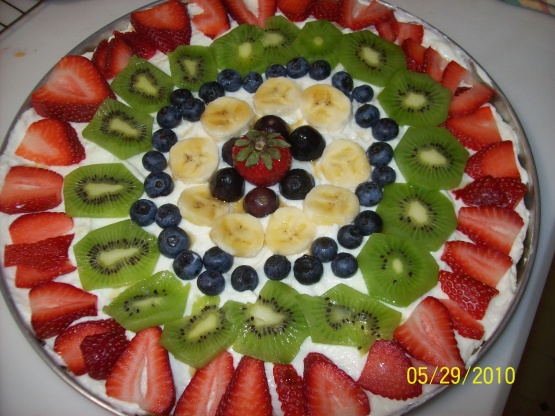 I have never tried this with corn flakes, but it sounds GREAT. I have always used sugar cookie mix for a crust and it is too sweet, this sounds better though! If you use a lot of fresh colorful fruit (blueberries, raspberries, apples, peaches, kiwi, strawberries etc.) it looks beautiful.
Top Review by moxie
Awesome crust!!! So much better than the sugar-cookie kind. I will be using it for icebox pies in the summer, too. This made such a beautiful and delicious dessert. Thanks, Dana, for sharing it.
Preheat oven to 350°F.
In a bowl combine corn flakes, sugar, margarine, and corn syrup.
Press mixture evenly and firmly in bottom of 12-inch pan.
Bake for 5 minutes, cool completely.
Combine cream cheese and marshmallow creme, spread over crust.
Arrange fruit over cream cheese mixture.
Chill for 1 hour.
Cut into slices.